You begin to understand the uniqueness of this island the moment you sail by Jadrolinija's boat into its bay, the bay of St. George. This magic is more understandable when you step on the island and fills you with a special peace. Every step after that pulls you more and more into that magical island vortex.
The area of ​​the island of Vis stretches to approximately 90 square kilometers, but with each visit, the island seems to discover a new kilometer of its natural beauty. The energy of this island is palpable, and it is intertwined with beautiful and untouched nature, superb gastronomy and wines, and people who, with their sense of humor and hospitality, get under your skin.
NIGHTLIFE
If you are looking for crazy nightlife and you expect a new Ibiza from Vis – you are in the wrong place. There is a party here and there sometimes, like in the Vis club Bejbi, Diamond Beach bar on Teplush and during the Goulash Disko festival in Komiža, but you come to Vis to ease your body and rest your soul. The only late-night entertainment is the dance of a million stars accompanied by the sound of thousands of crickets hiding in the warm summer grass.
BEACHES
What Vis really is are hidden beaches where there are never too many people, except perhaps on the world-famous Stiniva, which was chosen by the readers of the European Best Destinations portal as the most beautiful European beach. This picture makes it very clear why.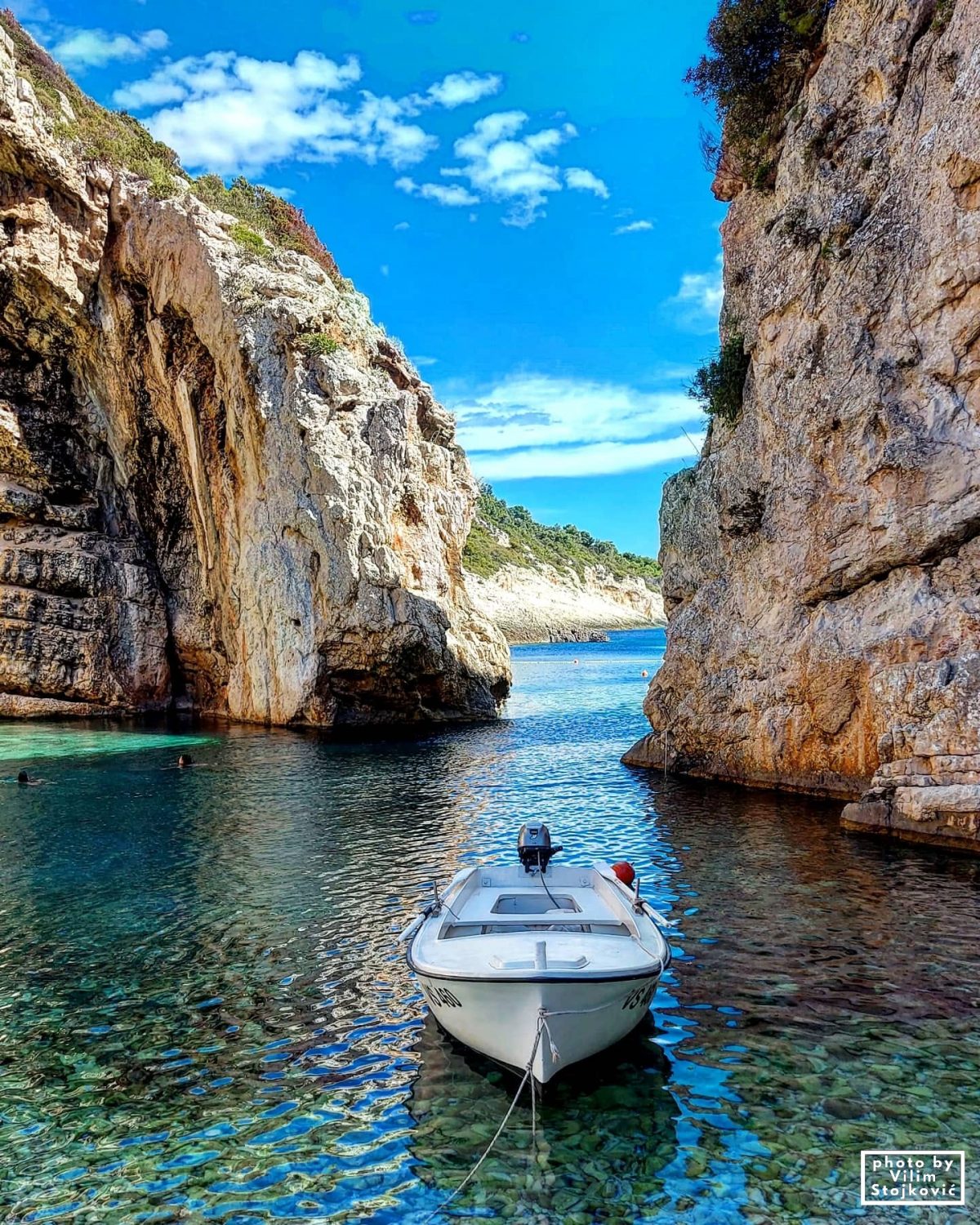 Stiniva can be reached on foot, by very steep trail, and by boat from the sea. If you want to visit Stiniva by boat, we can organize a boat trip for you. You can contact Dajana for pricing and reservations here. Other beaches are almost empty in the middle of the season, for a simple reason – there are many of them. There are sandy, pebble, and rocky ones, with beach bars and without them, officially and unofficially nudist. Vortex quads will take you on a tour to one of those wonderful hidden places.
More on Vis' beaches HERE.
GASTRONOMY
Many hiking and biking trails reveal the secrets of the island, such as medicinal herbs that grow here like weeds, and a special, deep silence, which calms your whole being. After a busy day in nature, whether swimming in the crystal clear sea or exploring forest paths, the most logical sequence of events is – food and drink. The island does not disappoint here either. To taste the authentic Vis' "pojor" or agricultural food, the first choice is Gushti poja, a beautiful tavern that serves fish and vegetarian dishes such as patakenjac, octopus risotto and goulash, manistra na brujet, motar, and many other culinary delights that you probably won't be able to try anywhere else but on the island of Vis.
For an excellent pod pekom meals, such as octopus, veal or lamb, we recommend Konoba Dol, a wonderful restaurant in the middle of the island. For a great pogacha od slane ribe – an authentic pastry with salted anchovies, and amazing fish meals – Restaurant Val with 25 years of experience, located at Kut, is your place-to-be. Konoba Vatrica is also known for its wonderful peka and fish meals, especially manistra. Their semifreddo is something you just have to try! The Roki's tavern is another place in the center of the island where you can eat delicious meals pod pekom. Be sure to try their homemade wine varieties Plavac and Bugava – the most famous Vis wines that you will rarely taste anywhere outside the island.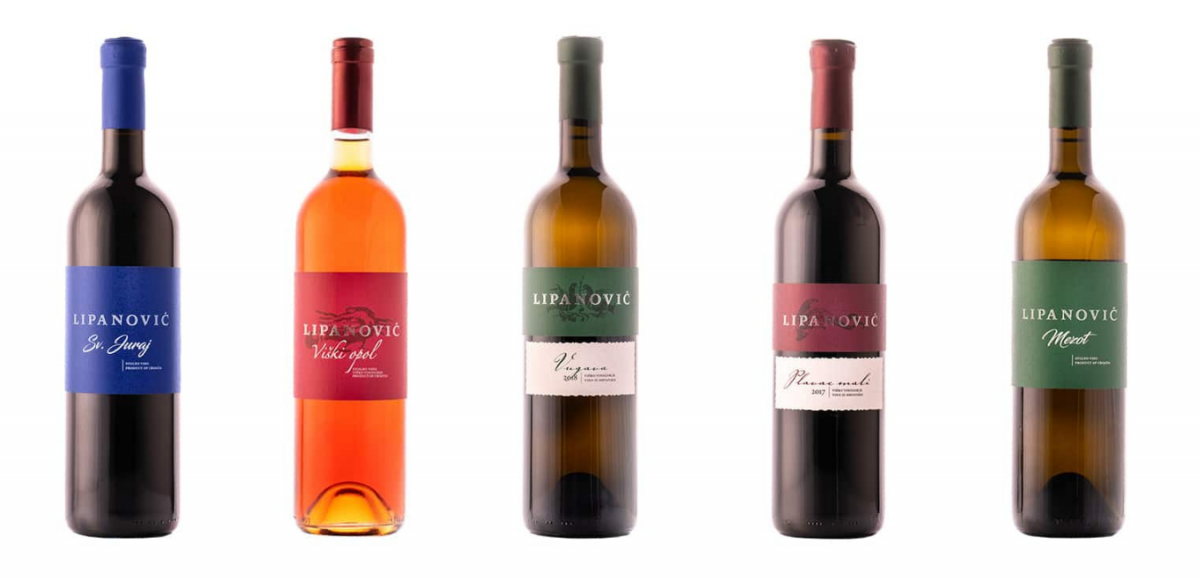 Picture Credit: Lipanović.com, https://www.lipanovic.com/
The wine tradition of Vis is so strong that it is said that the New Year celebration on Vis begins in the month of September – at the beginning of the grape harvest. Bugava or Vugava is the authentic grape and wine variety of the island. This variety of grape doesn't grow anywhere else in the world, and its taste is described to be like honey. The most famous Bugava is from The Lipanović winery. But the Vis wine written about by ancient historians is plovac. The Greek chronicler Agarthid of Cnidus in 300 BC wrote about this wine variety as "compared to all others the best". You can still try and buy Plavac mali on Vis – the oldest known variety of red grape.
Also, in Poljoprivredna Zadruga Vis you can taste a great number of local authentic products, such as viški hib and locally made liquours from lemon, tangerine and other locally grown fruit.
We can do a gastro and wine tour customised to your preferences by our ATVs or a VAN.
ACCOMODATION
Vis has been isolated for half a century and was a military center where no one was allowed to step on. This fact, plus the distance from the mainland kept the island from becoming a "copy-paste" mass tourism location. Therefore, most accommodations are private apartments and villas that kept the island's vibe and simplicity intact. We can help you find the best one for you HERE.

ATTRACTIONS
Vis' isolation and distance from other islands and the continent expose it to stronger gusts of wind, so it is suitable for paragliding. The island of Vis is the only Croatian island with a registered airfield for paragliding. 200 sunny days a year will give you a healthy tan, and allow you to enjoy the joys of the sea, like the SUP ride we rent out.

Due to the mentioned distance from the mainland, Vis was ideal for numerous military operations and was also a hiding place. The complex of twenty kilometers of tunnels built. Our QUADS take you through those tunnels to cool off from the hot Vis summer. The filtration system in these tunnels is impeccable, and the air temperature is the same in winter and summer. There are openings for cannons high on the rocks, and in some bays there are ditches where ships and submarines used to hide. In addition to these human creations, we will take you to Hum – the highest peak of Vis with almost 600 meters above sea level, with a view of Velebit, Pelješac, Lastovo, Jabuka, and Kornati to experience a special sunset that you will remember for a lifetime.

We will connect you with shipowners who know every part of the island from the seaside so that you can explore the countless caves of the island. You should not miss the Green Cave and the widely known Blue Cave on the nearby island of Bisevo.
Photo Credit: Zdenkica obrt za iznajmljivanje brodova, https://rentaboatkomiza.com/
You should visit Komiza, a historical fishing village where you can ask local fishermen to sell you freshly caught fish. We recommend that you make friends with one of the islanders and ask them to prepare it for you their way – the sardines on ražanj might be another dish that I don't believe you will eat anywhere else.
And if you want to experience a glimpse of the world from this remote island, head to the open-air cinema. This island has as many as two – Mediteran in Komiža and the summer cinema Hrid in Vis, by the sea. The feeling of watching a movie under a vault of stars and the smell of salt is indescribable.
We will take you on quads through many of these places because we want to show you what this island means to us. For other places you want to explore on your own, RENT OUR E-BIKE, scooter or CONVERTIBLE CAR so that you can slowly soak up all its juices, stories, and scents of rosemary, immortelle, and summer serenity through an easy ride around the island.